Meta-Analysis the Effect of Baby Massage in Increasing Quality of Sleep and Infant Body Weight
Abstract
Background: Sleep patterns and weight in infants are identified as one of the most important topics related to infant growth and development. Baby massage is a slow and gentle stroke move
References
Bahrami H, Kiani MA, Noras M (2016). Massage for infantile colic: Review and literature. Int J Pediatr. 4(6): 19531958. https://doi.org/10.2208/ijp.2016.-6743.
Basiri-Moghadam M, Baisiri-Moghadam K, Kianmerh M, Jani S (2015). The effect of massage on neonaal jaundice in stable preterm newborn infants. J Pak Med Assoc. 65(6): 602
Bennet C, Underdown A, Barlow J (2013). Massage for promoting mental and physical health in typically developing infants under the age of six months. Cochrane Database Syst Rev. 2013(4): CD005038. https://doi.org/10.1002/14651858.CD005038.
Dalili H, Sheikhi S, Shariat M, Haghnazarian E (2016). Effects of baby massage on neonatal jaundice in healthy Iranian infants: A pilot study. Infant Behav Dev. 42: 22
Dehghani M, Babazadeh R, Khadivzadeh T, Pourhoseini SA, Esmaeili H. (2018). Effect of breast Oketani-massage on neonatal weight gain: A randomized controlled clinical trial. Evid Based Care J. 8(3): 57
Field T (2016). Massage therapy research review. Complement Ther Clin Pract. 24: 19
Guzzetta A, D
Hartati S, Desmariyenti, Hidayah N (2020). Effects of Baby massage on Weight Gain in Babies. J Midwifery Womens Health. 2(2): 255
Kachoosangy RA, Aliabadi F (2011). Effect of tactilekinesthetic stimulation on motor development of low birth weight neonates. Iran. Rehabilitation J. 9(13): 512-517. https://doi.org/10.67943/irj.2011.3677.
Khan R (2015). Evaluation of effect of massage with or without oil on the weight gain of low birth and very low birth weight babies. Paediatr Child Health. 6(9): 1
Kulkarni A, Kaushik JS, Gupta P, Sharma H, Agrawal RK (2010). Massage and touch therapy in neonates: The current evidence. Indian Pediatr. 47(9): 771
Mardiana L, Martini DE. (2014). Pengaruh Pijat Terhadap Kualitas Tidur Bayi Usia 3-6 Bulan (C. C. Corp (ed.)).
Massaro AN, Hammad TA, Jazzo B, Aly H (2010). Massage with kinesthetic stimulation improves weight gain in preterm infants. J Perinatol. 29(5): 352
Nughraheni RI, Ambarwati R, Marni (2018). Teori upaya peningkatan kualitas tidur bayi usia 3-12 bulan dengan terapi pijat (Theory of efforts to improve sleep quality for babies aged 3-12 months with massage therapy). Yogyakarta: Nuha Medika.
Pitre S (2012). Effect of massage on physiological and behaviorral parameters among low birth weight babies. Int J Sci Res. 3(5). https://doi.org/10.1192/s13052012-0089-z.
Rafii F, Ameri F, Haghani H, Ghobadi A. (2020). The effect of aromatherapy massage with lavender and chamomile oil on sleep quality of preterm infant. Burns. 46(1): 164
Rahmatnezhad L, Sheikhi S, Didarloo A, Fakoor Z, Iranidokht M (2018). The impact of baby massage training on awareness, perceived stress and breastfeeding self-efficacy of mothers with hospitalized neonate. Int J Pediatr 6(10): 8297
Sadeh A (2012). Sleep And Sleep Ecology In The First 3 Years: A Web Based Study. J Sleep Res. 18(1): 60-73. https://doi.org/10.1111/j.13652869.2008.00699.
Saputro H, Bahiya C (2021). The effects of baby massage to sleep quality in infant age 1-7 months. Int J Public Health. 2(2): 88
Soetjiningsih, Ranuh GIGN (2017). Tumbuh Kembang Anak, Edisi 2. Jakarta : EGC.
Sulis D, Elyana, Ferilia (2017). Pengaruh brain gym terhadap peningkatan perkembangan motorik halus, kasar dan prestasi belajar pada anak usia pra sekolah usia 4-6 tahun di PAUD Al Kholifah Desa Selorejo Mojowarno Jombang (The effect of brain gym on increasing fine, gross motor deve-lopment and learning achievement in preschool children aged 4-6 years at Al Kholifah PAUD, Selorejo village, Mojowarno, Jombang). Surakarta: CV Kekata Group.
Tekg
Vivian, Nanny LD (2010). Upbringing of neonatus infants and toddlers. Jakarta: Salemba Medika Publisher.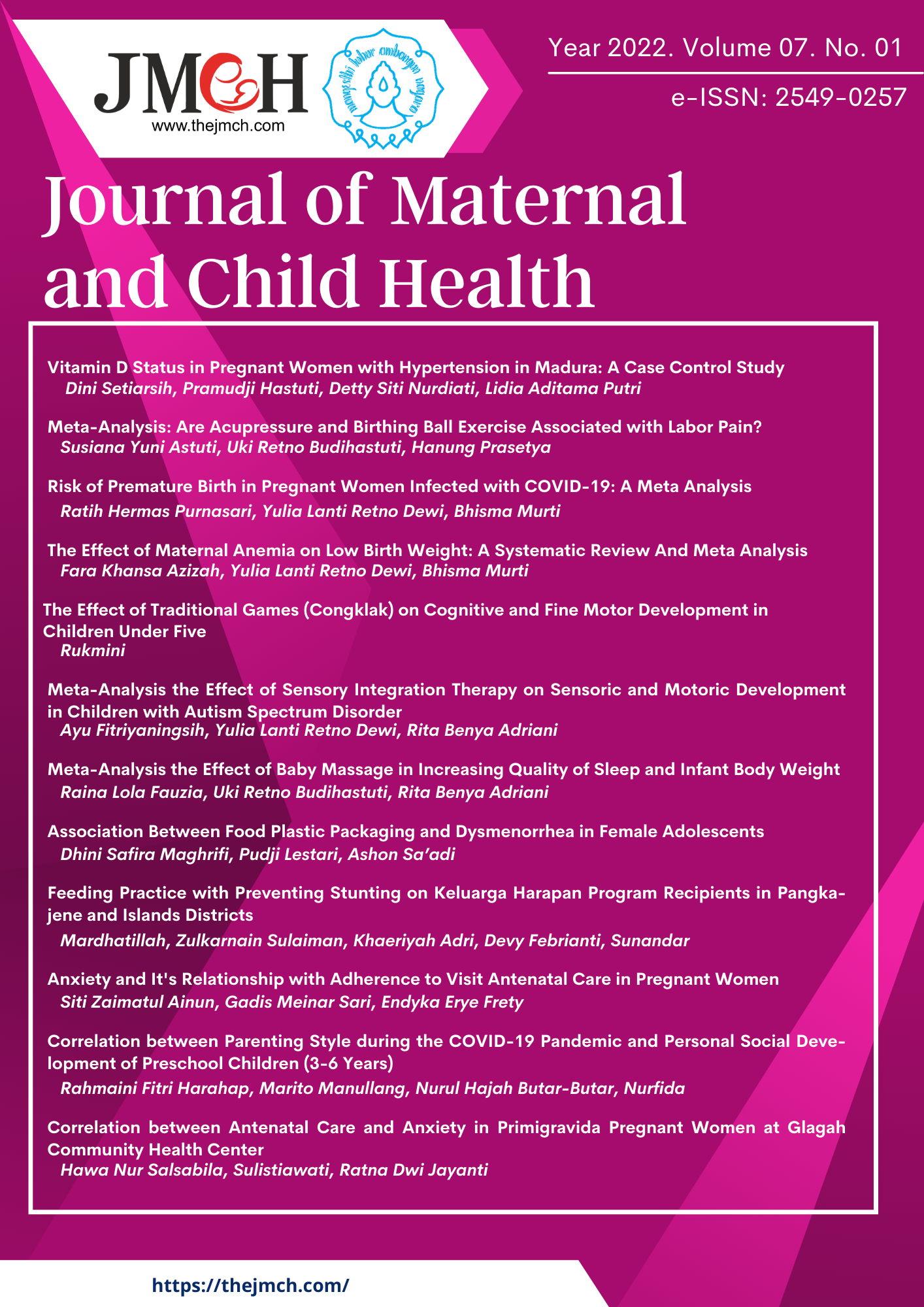 Downloads
How to Cite
Fauzia, R. L., Budihastuti, U. R., & Adriani, R. B. (2022). Meta-Analysis the Effect of Baby Massage in Increasing Quality of Sleep and Infant Body Weight. Journal of Maternal and Child Health, 7(1), 64–74. Retrieved from https://www.thejmch.com/index.php/thejmch/article/view/723